The Vesely Drak is a great example of an e-shop that is built on a community. Nowadays, a strong community is almost crucial to a brand's success. It can help a brand grow and thrive, it brings trust and loyalty, it spreads brand awareness and allows you to build your identity and values. In this article, you'll learn not only how it's thanks to its community that the e-shop Vesely Drak has become very successful.
What was behind the beginning of the e-shop?
The history of the e-shop began with a story about a collector and player of the card game Magic the Gathering. Lubos Lauer, the owner of the e-shop, originally wrote a blog about the card game, cmus.cz (short for Czech Magic Under Scope), which after some time made him decide to create his own e-shop.
At that time, there were no ads on Google or Facebook, so the blog was the only form of promotion for the e-shop. Thanks to the community he built, most of his first customers were blog readers.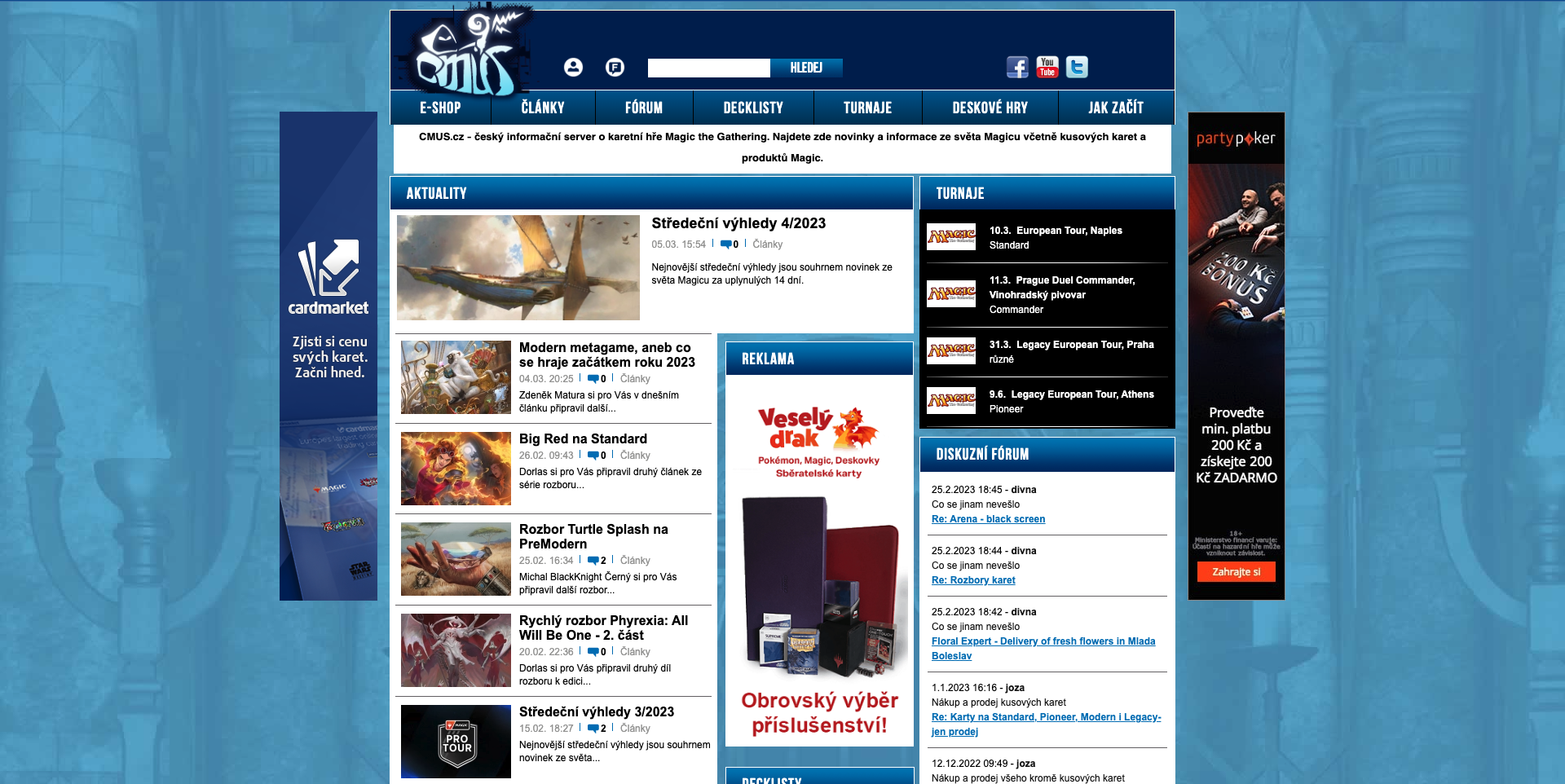 Our e-shop, following the CMUS.cz blog, has been offering premium Magic the Gathering cards since the beginning. It is a fantasy card game where two players face off against each other. The aim of the game is to take 40 life from the other player by attacking them with various monsters or by using spells you cast on them. Magic the Gathering is one of the oldest collectible card games. It came out in 1993 and is still going strong. Some cards are worth hundreds of thousands of dollars, especially the oldest and rarest.
Our goal was to create an e-shop that would be beneficial to the community of card game players and collectors and offer a wide range of quality products. Today we have achieved this goal through our efforts and dedication to this community. We are one of the largest e-shops in the Czech Republic that specializes in card games and offers a wide range of quality products at affordable prices.
We are proud to have become one of the largest and highest rated e-shops in the Czech Republic. We will continue to strive to provide our customers with the best service and products.
What makes the Vesely Drak e-shop different from its competitors?
Our main competitive advantage is our extensive knowledge and experience with card games, which we pass on to our customers.
Our ability to provide relevant advice and guidance to our customers interested in collectible cards gives us a huge advantage. Half of our team are active in the card games community, which we use to advise and also to select products for our range.
Another advantage we have is the care with which we process the goods and package them for shipment. With collectible cards, the condition of the packaging is crucial to its value. That's why we strive to ensure that the cards arrive to our customers in perfect condition. This care is greatly appreciated by our customers because they know that the cards they buy from us will always arrive in good condition.
Our strength is also the range of products we offer. Customers can order everything they need to play card games from us, so they don't feel the need to go elsewhere.
What advice would you give to a person who wants to start an e-shop focused on games?
I am convinced that the e-shop market is not as free as it used to be. With the explosion of e-commerce, the market has become crowded and those e-shops that have failed to develop and optimise their processes effectively may now be in big trouble. If you want to start a business in this sector, it is important to offer an exceptional range of products and deal with customer demands effectively. In a mass market, this can already be challenging. Getting the timing right is also important, as I have seen first-hand. If covid hadn't come along once, we might not be where we are today.
---
What led you to start working with Tanganica?
We have always had a tendency to test new things and one of them was the Tanganica platform. Together with our agency, we started using Tanganica and after a trial period, we found that campaigns on this platform had similar effectiveness to our other campaigns. However, our investment in using Tanganica paid off as we found that all of our campaigns performed better overall than when we managed them on just one platform.
---
I would like to thank Mr. Lauer again, who gave me his time and willingly shared with me his knowledge and advice that gave rise to this article. Without your valuable support this would not have been possible. Your practical knowledge and personal approach have been a great asset to me and I trust that our article will be useful and inspiring to many readers. Thank you very much for your time and support of Tanganica.